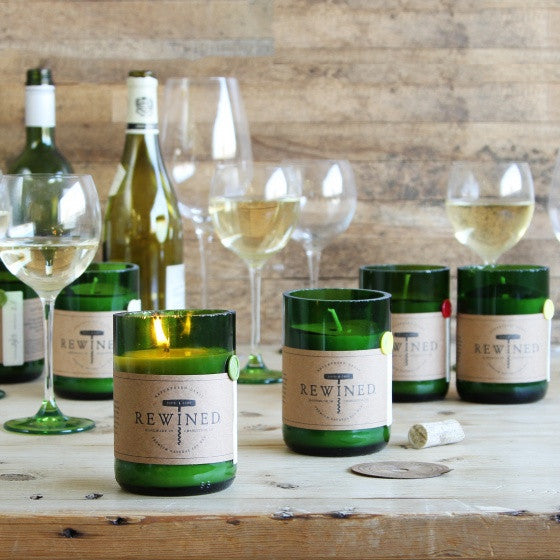 Bring Your Favorite Tastes To Life With The Light Of A Match
Do you have an upcoming house warming, engagement, or birthday party perhaps? But you do not want to bring the expected bottle of wine? Perhaps we have what you are looking for, an original twist to a classic gift. Introducing  'Rewined' wine scented candles. Produced in a recycled wine bottle, each candle is hand crafted to immerse each and every scent and taste of the flavour of wine. 
A local company established in Charleston, South Carolina began hand making their premium natural soy candles at home and selling in local markets throughout Charleston. As people started to notice their unique structure and accurate aromas, they started to receive requests nation wide for orders. Since then, Rewined candles have expanded and continue to grow their products. Meanwhile with the company expanding, they have still maintained their small town local manufacturing with their prestige 'candle crew'. With scents including Pinot Grigio, Champagne, Sauvignon Blanc, Cabernet, Chardonney, Pinot Noir, Merlot, and my favorite, Riesling, there is a special scent with each and every wine lover; a nice substitute for actually having to open that fresh bottle of wine.
 Shopping for a non-wine lover? No need to fear, we have candles right from the garden. Sweet, earthy, spicy, and crisp smelling candles, with natural soy wax and cotton wicks, the mason jar produce candles bring the farm stand into the home. From peach and melon, to rhubarb and honey, to herbs like Rosemary, sage, and mint, these candles are the most refreshing and accurate smelling gift a person can give.
Lulie Wallace candles which are also handmade in Charleston, South Carolina come in a beautiful hand designed tin. Each candle scent has a unique hand painted designs by Lulie Wallace herself. With mixed floral scents, it adds a delightful blend of scents to engulf your house.
Next time you are in need of that perfect gift or sprouse of freshness in your house, consider our new handmade natural soy candles!