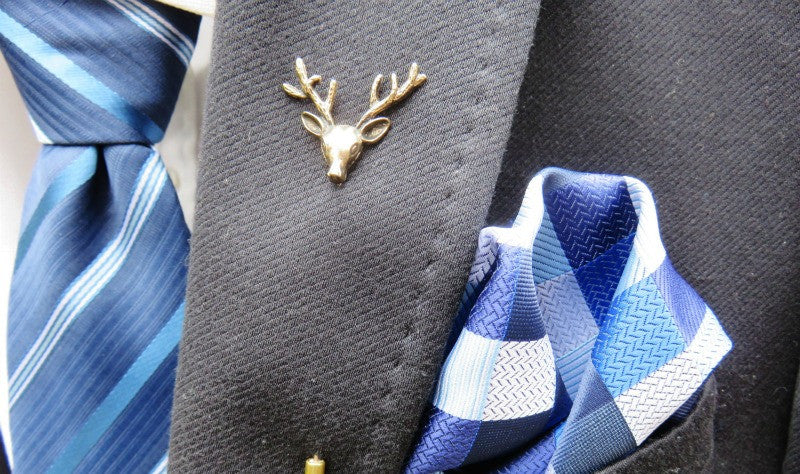 Wedding Season Is Here - Time To Accessorize
With summer wedding season upon us, we have fully stocked our men's accessory selection. With our wide variety of traditional ties, fun ties, bow ties, pocket squares, lapel pins, we surely have what you are looking for to spice up your suit.
When it comes to accessorizing, there are many ways you can spice up your suit. If you want simple with a little bit of fun, a bright patterned tie may be the best route for you. With a simple coloured suit and shirt the pop of a tie completes the finished look. If you are in the mood for a bit more fun than just a tie, perhaps a wooden bow tie to stand out in the crowd? 
These bow ties keep it simple with one accessory, but I can promise you will be the only one rocking this look at your event. 
If you are in the mood for more than just a fun tie, a pocket square is the next step to complete your look. The first rule in choosing your pocket square is to ensure that your tie and pocket square never match identically. Your accessories should compliment each other, but never have identical colour or patterns.
The cherry on top of the perfect outfit is the lapel pin. Bringing back a historic trend, the lapel pin dresses up each outfit - whether it be casual or formal. Always going on the left side of the lapel - which is the folded over collar on every suit or sport jacket - it is an easy way to fully reflect yourself through your suit. There are many fun options when it comes to lapel pins. The tradition flower, or perhaps a simple metal antler or theatre mask. Varying colours and styles depending on what your occasion consists of.
Whether it be just a tie or bow tie, a pocket square, lapel pin, or the whole ensemble, they are all simple ways to flair up your suit and express who you are through your outfit. I can assure you, your final touches will be noticed!